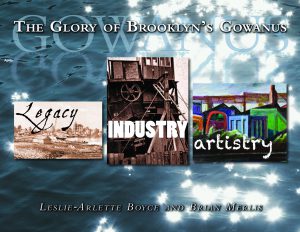 By Leslie-Arlette Boyce And Brian Merlis
The Glory of Brooklyn's Gowanus: Legacy, Industry, and Artistry is the first hard cover contemporary text written about the history of Gowanus Canal through its current state of flux. The book begins with excerpts of recorded history of the Dutch West India Company, land sales, encounters with the indigenous population, slavery in Brooklyn and the Revolutionary War. The text is surrounded by  reproductions of early maps and lithographs. The second section of the publication is comprised of archival photographs, and bills of sale from nineteenth century industries along the shores of the Gowanus Canal that had a hand in creating the now infamous pollution. Section three begins with the earliest known artists of import, inspired by its pre-industrial purported inexplicable beauty. In addition to originator of this project, Boyce took on a curatorial role. Section three is comprised of a look at the artistry recently created with the Canal as inspiration. Works of art created by local artists that have a twenty-five year span in age, a range of ethnicities from Native American/First Nation Peoples, African, Asian and European dissent create art near and around the Gowanus Canal, in multi-use spaces have had a hand in making the area Brooklyn's new frontier. The Glory of Brooklyn's Gowanus was the most  sold book at Brooklyn's BookCourt on Court Street in Brooklyn NY prior to its closing on December 31st, 2016. Available at The Strand Book Store, Gowanus Souvenir Shop, and the N.Y. Public Library. Please use the Contact page to request a copy from L.A. Boyce.
Vintage photographs from the collection of The Glory of   Brooklyn's Gowanus: Legacy, Industry and Artistry are available.
 Here are just a handful of some of my favorite vintage photographs of the Gowanus Canal that appear in this publication. Digital archival prints on 8" X 11" paper are priced at $150.00 USD. Digital archival prints on 9" X "13 paper are priced at $300.00 USD.
Please use the form found on the Contact page to place your order.
ALL IMAGES ARE SUBJECT TO COPYRIGHT.